Patina On Leather Shoes, How It Is Created And Enhanced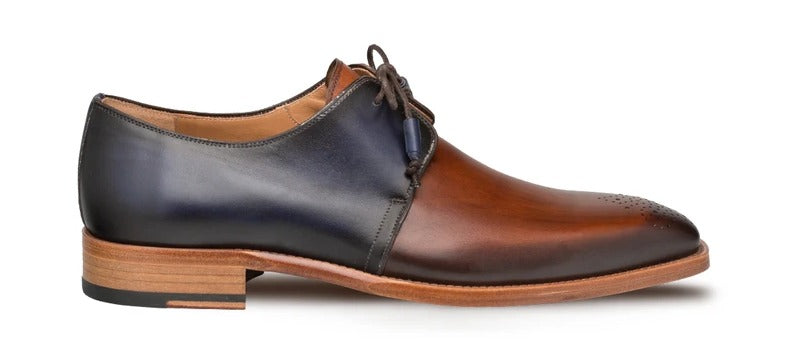 Patina is a lustrous coating naturally created over time on surfaces from copper all the way to leather.
The natural process occurs when substances such as oxygen, in the case of copper, and oils, in the case of leather, come into contact with the surface and change its appearance. The result is a rich layer of veneration, highlighting the quality and durability of the material. This aging formula can be achieved quickly and artificially in leather during construction of the shoe by the use of waxes and dyes to provide the coating, rather than time. The better the leather, the more luxurious the final result.
Obviously, this will add to the cost of the shoe but is worth the price for the look thereby created. But regardless of price, there's no denying the beauty and quality of a leather patina shoe.
Let's take a closer look at just how unique this process is. Once purchased, your leather shoes can be enhanced even further by darkening specific areas and not others, thus creating that time worn effect.
All leather shoes will crease when worn, as the foot flexes. Rather than allow these creases to just exist, by judiciously utilizing wax polish and creams, a variegated look springs up and personalizes the shoe. Take a tan color leather shoe and, as the creases appear, polish them first with a dark brown wax, rubbed in thoroughly; the color will fill certain areas but not all. Then apply a dark brown cream and buff the shoes vigorously with a good shoe brush.
The results will amaze you! There will be a richness of color as well as an eye-catching gleam. The procedure can be performed with other colored shoes, yielding the same results. Not only will you receive compliments on your beautiful shoes, you'll be able to take pride in the fact that you own shoes unlike any others because you created their signature look. Some of the more elite European leather tanneries and leather manufacturers of products such as handbags, briefcases, leather furniture, and handmade shoes use highly skilled craftsmen who 'work' the leathers by hand to give them the burnished, aged, and artisan finishes that give them an exquisite aesthetic appeal.
When you come across leather goods with this quality of patina, the character of the product becomes a treasured one. Possessing and wearing one of these leather products is truly a prized experience.