A Complete Guide to Men's Boots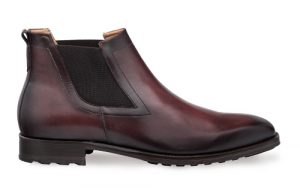 Men may not have as many options as women when it comes to accessorizing their wardrobe, but shoes are one area where guys can get just as creative as the ladies. If you have yet to flesh out your footwear with
designer boots
, consider some of these fun and sophisticated styles to spice up your ensembles.
Captoe
This style is similar to the casual plain toe boot, but with the distinctive difference of an extra piece of material across the toe. It's a subtle detail, but one the elevates the visual interest of a standard shoe style. Captoes are perfect with everyday ensembles, but when you choose polished leather or suede styles, they can also pair with simple suiting.
Chelsea
Get ready to go mod with
Chelsea boots
, a style that features an elastic band at the ankle for easy, pull-on utility. Simple, clean, and comfortable, this boot style is best worn with casual outfits, but choosing more sophisticated materials like polished leather could work for the tweed suit set.
Chukka
This take on the desert boot offers utilitarian rubber soles, along with ankle-height, open-laced uppers, featuring 2-3 eyelets. More rugged than a typical day boot, this style is best suited to wear with a jeans and flannel type ensemble, although suede pairs can also go great with a casual jeans/sweater/blazer combo.
Cowboy
This pointy-toed, mid-calf, pull-on boot could be casual and utilitarian, a la the wear and tear of horseback riding and mucking about on a farm, or it could be shiny and embellished for wear with a slick suit and your favorite bolo tie.
Harness
This mid-calf, pull-on, square-toed boot style is so called for the straps encircling the ankle. A popular choice for serious bikers, these butt-kicking baddies are tough and resilient enough to take a spill on the highway and look even better for the blotches.
Jodhpur
More than just a horse-riding pant style, jodhpurs are also a style of ankle boot defined by a strap that crosses at the back of the ankle. Consider them a bit more refined than the Chelsea.
Plain Toe
As the name implies, you'll see no caps, broguing, or other embellishments on this plain style, which is a staple for any fall and winter wardrobe. Think of the plain toe boot as the everyday sneaker of your fall footwear - it won't really work with a suit, but it goes with pretty much everything else, from skinny jeans, to cargos, to casual slacks.
Wingtip Brogues
The Kingsman organization may prefer Oxfords to brogues, but when it comes to casual dress boots for fall, you can't go wrong with the laid-back brogue style, complete with decorative perforations, that perfectly complements your everyday sweater and jeans ensemble. Wingtips are a must for any modern man's work wardrobe and adding ankle height takes this quintessential shoe into the colder months with aplomb.
Work Boot
Tough, durable work boots are defined by heavier soles and tougher materials, as well as multi-eyelet lacing and full ankle coverage, ostensibly for foot protection during rugged work activities. Jeans, tees, flannels, and other pieces are de rigueur with work boots.
In Conclusion
There is a boot for every personality and/or situation. Now that you know the difference in men's boots, you can start finding your next pair of
Mezlan boots
today!