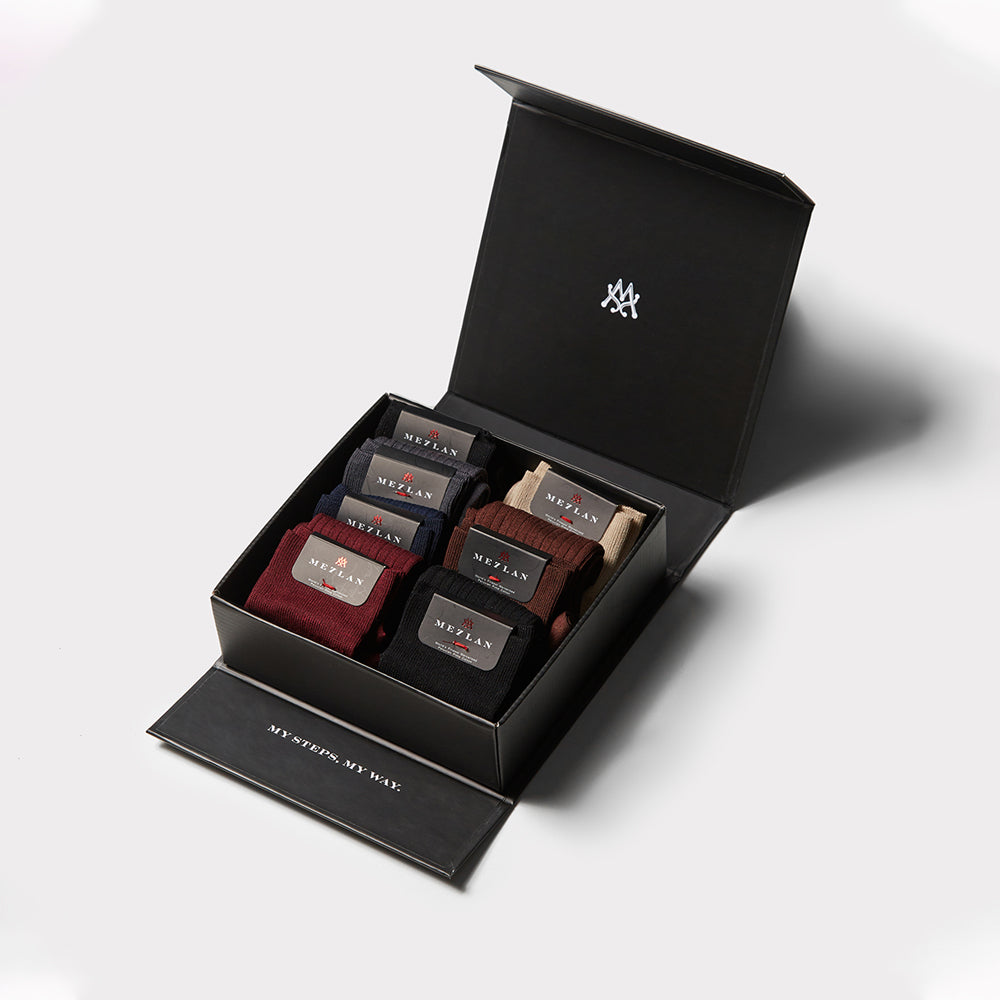 MEZLAN SOCKS
Pima Cotton – The Most Extraordinary Cotton in the World
Pima cotton is a superior, high-end, ultra soft, longer staple fiber which is more luxurious than standard varieties of cotton. Pima cotton produces smoother and more supple fabric, rich in texture, extremely durable, wrinkle-resistant, pill-resistant, and soft to the touch.
Handcrafted in Peru
Our Pima cotton is sourced and handcrafted in Peru. The unique growing conditions on the tropical Peruvian coast bring abundant crops that are hand-harvested to preserve the integrity of these longer fibers. The result: luxe, stronger, supple cotton that is prized by fashion insiders.
Mercerized
Mercerized cotton is a special kind of cotton yarn that has been treated to make its fibers look and feel more lustrous and brighter in color than conventional cotton. It is also stronger, takes dye a little more readily, produces less lint, and is more resistant to mildew. It also tends not to shrink or lose its shape as much as "regular" cotton. And it is easier to clean, releasing stains and odors with simple, home laundry best practices.
Hand Wash & Laundry Care: Hand washing is one of the best methods for washing Pima Cotton, but gentle machine cycle is acceptable, using cool or slightly warm water. This will prevent fading and shrinking. Washing in hot water can cause the fabric to shrink.
Gentle dry using low temperatures or skip the machine and line dry or lay flat to dry.  Do not bleach.
Removal of the red thread in the sock label: Remove the thread very carefully using a seam-ripper tool or sharp scissors (sometimes sharp fingernails will work). Be sure not to cut the sock material on either side of the label. Do not try to pull the socks apart as this rough movement could damage the sock.
Superior Composition
Nylon-spandex enhancing blend perfectly supports one another, infusing added performance and luxury to our comfortable, mercerized Pima cotton composition.
Nylon-spandex blends have complementary properties. When combined in the proportions we use with our Pima cotton, they produce the perfect men's sock.
Nylon's durability and moisture-wicking abilities, combined with the impressive elasticity and strength of spandex, offer an ideal balance, providing both comfort and therapeutic benefits. When added to the world's finest Pima cotton, a superior composition is created wherein the magic happens.  Peruvian mercerized Pima cotton, blended with just the right amount of nylon and touch of spandex, provides a luxurious feel, - a gentle touch of stretch and recovery, light-weight breathability, and remarkable durability. The Heel & Toe are reinforced.
One Size Fits Most  (Our customer feedback ranges from approximately size 8 up to size 13 or 14).
Generous Mid-Calf Height
Designed with specifications which allow the sock to stay up on your leg in a full, higher, and more luxurious fashion rather than creeping down towards the ankle.
Hand-Linked Toe
Hand linking is a centuries-old technique where the craftsperson matches every single stitch that is sewn together to close the toe of the sock, providing a smooth, comfortable seam.