Beyond Juicy Couture: The Rise of Athleisure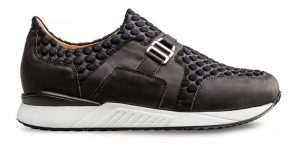 Founded in 1995, Juicy Couture rose to prominence in the early 2000s because of the intense popularity of their velvet tracksuits, and some might mark this phenomena as the beginning of the athleisure trend in modern fashion. Never before had exercise clothing been particularly fashionable. It was largely relegated to actual athletes and cinematic stereotypes (the modern mobster, natch). Until Juicy delivered their modern update, with luscious fabrics (velour), feminine colors, fitted physiques, and a Swarovski-studded logo splayed across the seat of the pants, tracksuits were little more than functional clothing. Juicy elevated the utilitarian tracksuit to the level of Cali couture. With celebs like Madonna, J-Lo, and Paris Hilton sporting these sexy "sweats," Juicy Couture became a household name practically overnight. Of course, the athleisure trend is about more than just emulating Juicy, although plenty of brands have over the years. It's about creating casual, sporty clothes and accessories that look chic and suit active, modern lifestyles. It's about creating a seamless and stylish blend of athletic wear and everyday clothing-garments that work equally well at the gym, running around town, or even heading into the office. How did athleisure move beyond the hype of Juicy Couture?
Lululemon and Functional Luxury
Although Juicy took the ready-to-wear fashion world by storm, there were a couple of problems from the get-go. For one thing, velour tracksuits don't actually work as gym wear. They also weren't considered formal enough to wear to the office, a nice restaurant, or work events, just for example. In essence, these tracksuits were relegated to soccer mom status-a nicer version of the throw-on sweats busy moms lived in (hence, their massive popularity). When
Lululemon came on the scene
in 1998 as a "yoga-inspired, technical athletic apparel company for women and men," their iconic
Boogie Pant
became an instant classic and their dedication to making clothing both functional and attractive quickly caught on. Unlike Juicy, which was solely creating a lifestyle look elevated by celebrity endorsements, Lululemon produced high-performance garments robust enough to meet the needs of elite athletes, but attractive enough for daily wear. Some would argue this was the true birth of the athleisure trend as we know it today.
Haute Athleisure
Athleisure has so permeated the popular culture that it's even become acceptable to wear it at red carpet events. Just look at the recent Met Gala, where Frank Ocean wore a pullover
Prada hoodie
and Kanye West sported an ensemble
courtesy of Dickies
. These aren't the only instances of athleisure permeating every strata of modern life.
Men's sneakers
are a prime example. Once designed specifically for activity (and for specific activities), sneakers have essentially become the modern Oxford, a shoe to be worn with everything from jeans to suits. The
sport leisure
category in men's shoes is the fastest growing market, with brands like Nike, Adidas, and
Mezlan
delivering the sporty kicks modern men prefer in streetwear and even office attire. Pairing performance with high style, the athleisure trend continues to climb the fashion ladder with garments and footwear that work just as well on the red carpet as they do on the street.