Stars Wearing Mezlan Shoes at 21st Annual SAG Awards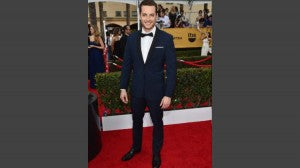 When the 21st Annual Screen Actors Guild Awards began and the stars started to walk the red carpet, Mezlan aficionados may have noticed some familiar footwear amongst some the evening's biggest stars.
The event, which aired live on TNT and TBS on January 25th, is the only televised award show to exclusively honor performers, and gives these stars a chance to show off the latest fashions.
Among the many celebrities who graced the red carpet were two who, in our opinion, had an exquisite sense of style. Jesse Lee Soffer, who has starred in television shows such as Chicago Fire, As the World Turns, and Chicago P.D., was seen gracing the red carpet in a pair of Concertos. Mark Moses, who has starred in such award-winning shows as Desperate Housewives and Mad Men, was also spotted attending the event in a pair of Concertos.
The shoes are available at Mezlan's Chicago store in the 900 N Michigan Shops, as well as at our San Jose (Santa Clara), Houston, Atlanta, Las Vegas, and Arlington, Virginia stores. The ceremony, a Hollywood staple since 1995, went off without a hitch, handing out 17 different awards. Although our Mezlan Men weren't nominated for any awards, they were on hand and looking sharp to support their peers who were.
The complete list of winners is included below.
Award Winners SAG Life Achievement Award: Debbie Reynolds Outstanding Performance by a Cast in a Motion Picture: Cast of Birdman Outstanding Performance by a Male Actor in a Leading Role: Eddie Redmayne as Stephen Hawking in The Theory of Everything Outstanding Performance by a Female Actor in a Leading Role: Julianne Moore as Alice Howland in Still Alice Outstanding Performance by a Male in a Supporting Role: J.K. Simmons as Fletcher in Whiplash Outstanding Performance by a Female in a Supporting Role: Patricia Arquette as Olivia in Boyhood Outstanding Performance by an Ensemble in a Drama Series: Cast of Downton Abbey Outstanding Performance by an Ensemble in a Comedy Series: Cast of Orange Is The New Black Outstanding Performance by a Male Actor in a Drama Series: Kevin Spacey as Francis Underwood in House of Cards Outstanding Performance by a Female Actor in a Drama Series: Viola Davis as Annalise Keating in How To Get Away With Murder Outstanding Performance by a Male Actor in a Comedy Series: William H. Macy as Frank Gallagher in Shameless Outstanding Performance by a Female Actor in a Comedy Series: Uzo Aduba as Suzanne "Crazy Eyes" Warren in Orange Is The New Black Outstanding Performance by a Male Actor in a Television Movie or Miniseries: Mark Ruffalo as Ned Weeks in The Normal Heart Outstanding Performance by a Female Actor in a Television Movie or Miniseries: Frances McDormand as Olive Kitteridge in Olive Kitteridge Outstanding Performance by a Stunt Ensemble in a Motion Picture: Unbroken Outstanding Action Performance by a Stunt Ensemble in a Comedy or Drama Series: Game of Thrones